Desert Foothills Baptist Church is a organization that Has Biblical purpose (Matt. 28:19-20), Biblical leadership (1 Tim. And Titus), practices Biblical ordinances (Matthew 26:26-29; 1 Cro. 11:23-25), and practices Biblical church discipline (Matt. 18:15-17).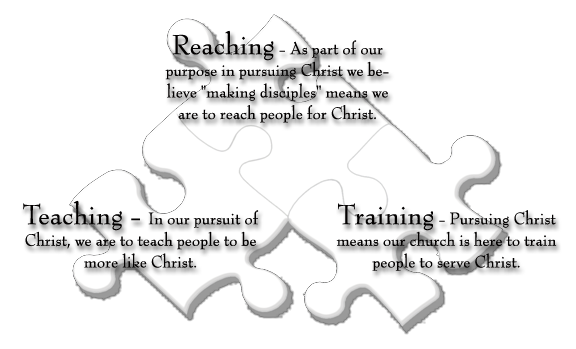 We are also a Baptist church giving us the distinctives of (1)Biblical Authority (2 Tim. 3:16-17; 2 Pet. 1:21), (2) Autonomy of the local church (Matt. 18:17; Acts 6:1-7); (3) Priesthood of the believer (1 Pet. 2:1-9); (4) two ordinances (a)Baptism (Matt. 28:19; Acts 2:41), (b) the Lord's supper (1 Cor. 11:23-25); (5) individual soul liberty (Romans 14:5, 12); (6) Two Offices (a)Pastor (Acts 20:28; 1 Tim. 3:1-7), (b)deacons (Acts 6:1-7; 1 Tim. 3:8-13); (7) Separation (a)personal – from wordliness (1 John 2:15-17); (b)Ecclesiastical – from compromise (Acts 5:29; Galatians; Rev. 18:4); (c)Governmental – from state religion (Matt. 22:21; Acts 5:29).
We are an independent church and believe that there is no model for denominationalism in the Bible and all churches in the New Testament are autonomous, independent, or self governing.
We are and interdependent church where we believe in the unity of the body of Christ (Eph. 4:4-6) and that the cooperative efforts with like-minded churches increases our effectiveness in fulfilling the great commission and the great commandment (1 Cor. 16:1).
As a church we exist ulitmately to Glorify God (Isaiah 43:7; 1 Cor. 10:31) and that we also must fulfill the great commission given in Matthew 28:19-20. We believe that scripture has given to us a threefold responsibility in both our lives and through the ministry of the local church in Matthew 18. This threefold responsibility includes (1) Reaching, (2) Teaching, and (3) Training.
Reaching others is the goal of knowing God. If teens know God, they will be able to have a relationship with Him. This is a crucial step in a teenager's walk with God. Without knowing God, turning from sin, and accepting His forgiveness through the blood He shed on the cross, the result is an eternity in Hell without Christ.
Teaching is the goal of learning to love God. Each teen after they begin the relationship with God begins to grow in their love for Him. Our prayer is that each of the teens would love God more each day. DFBC seeks to take the Word of God and apply it to the lives of the teens so that their love for God will grow.
Training is the goal of serving God. As each teen grows in their knowledge and love of God, we are convinced that it will show itself in acts of service. James refers to this as works and relates it to us that "faith without works is dead."